UPDATE AT THE END OF POST.
I love books. And TV. And music. Here's my take on a few offerings from the first two categories. I'm going to save the music piece for a second post as this is getting quite long.
Books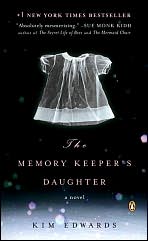 Synopis from
Barnes & Noble.com
: On a winter night in 1964, Dr. David Henry is forced by a blizzard to deliver his own twins. His son, born first, is perfectly healthy. Yet when his daughter is born, he sees immediately that she has Down Syndrome. Rationalizing it as a need to protect Norah, his wife, he makes a split-second decision that will alter all of their lives forever. He asks his nurse to take the baby away to an institution and never to reveal the secret. But Caroline, the nurse, cannot leave the infant. Instead, she disappears into another city to raise the child herself. So begins this beautifully told story that unfolds over a quarter of a century in which these two families, ignorant of each other, are yet bound by the fateful decision made that long-ago winter night.
[The book]...explores the way life takes unexpected turns, and how the mysterious ties that hold a family together help us survive the heartache that occurs when long-buried secrets burst into the open.
I was fairly disappointed with this novel. It had a lot of elements that interested me, a very big lie and secret that was carried for a long time, a family member with a disability (who was supposed to go to an institution), photography, etc. However, the book is choppy, mostly because the author skips forward in time four or five times and picks up the stories of the characters again. She beats us over the head with the facts over and over, making sure we don't forget that this girl's mother and brother think she died while the husband suffers the consequences of keeping the secret. One huge element missing from the story is the daughter herself -- while crusading for her rights and education, the author missed the boat by not giving her her own voice amidst the others. Two out of five paws from me.
Synopsis: In this follow-up to his popular debut The Kitchen Boy, Alexander again mines the considerable lore of the Russian imperial family. Rasputin, the legendary mad monk, is also a family man raising two daughters in 1916 St. Petersburg. As he ministers to the tsaritsa and her royal brood during the last week of his life, 18-year-old Maria strives to understand the menacing aura surrounding her father. She is both loving and rebellious, but her adventures are limited to a flirtation with a young man who will betray her in a plot against her father. Alexander's wild-eyed romp through a period much studied for its contradictions and cruelties will be a staple of most historical fiction collections.

I knew going in this was a "young adult" book, but I enjoyed it well enough. I've read and seen a lot of documentaries on the fall of the Romanovs, and Rasputin certainly did his part in their fate. The book was compact in size and scope, covering the last week of Rasputin's life, and written convincingly from Maria's perspective. Three out of five paws.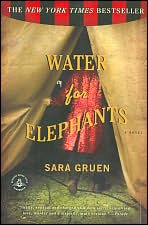 Synopsis: Just as the smell of popcorn and the allure of fiery sword swallowers and exotic animals once drew spectators to the big top, readers will be drawn to this story of life in a traveling circus during the Depression. After Jacob Jankowski's parents die in a tragic car accident, the bank repossesses their home, which had been mortgaged to finance Jacob's veterinary studies. Jacob jumps a train carrying the Benzini Brothers' Most Spectacular Show on Earth and is hired on because of his veterinary skills. The circus world is not all glamour and glitz, Jacob soon learns, but a hardscrabble life where both animals and workers are exploited and often mistreated. The author brings alive the circus culture with historical details and a wonderful menagerie of characters, including Uncle Al, the unscrupulous business manger; Kinko, a bitter dwarf; Marlena, the beautiful horse-riding star of the show; and Rosie, an elephant with personality and a secret. The story is told in flashback, through the eyes of Jacob, now ninety-three years old and in an assisted-living facility. His memory is jolted by the arrival of a circus in the parking lot nearby and his mind wanders back in time. The book's many complex layers-adventure, love, history, suspense, and a surprise ending-and Gruen's sensual prose are enhanced by period archive circus photographs at the beginning of each chapter.

I really enjoyed this book, in fact, it's the best book I've read in a while. The vocabulary isn't extraordinary, but the writing is solid, the characters are interesting and the period details convincing. Anyone who can write in the first person in the opposite gender to their own has some skills in my opinion. Some reviews have said the ending is contrived, but I disagree -- I loved the ending and felt satisfied as I closed the book on the last page, something I've missed greatly recently. Four out of five paws!






Next on my nightstand is Umberto Eco's The Name of the Rose. I wanted something I could really sink my teeth into. Last year I read The Mysterious Flame of Queen Loana, my first Eco read (where have I been?) and I discovered many words I never knew existed, never mind knew the meaning of. I'm thinking this is going to beat the pants off of Dan Brown.
What are you reading?

TV

Besides "So You Can Think You Can Dance", my favorite program with my least favorite name (who's the marketing genius who thought that up?), summer television can be a trying mish-mash of insipid reality shows and re-runs. This summer has been better than most. Here are three new shows, none of which are on the big networks, that I think are worth checking out:

Mad Men
The Setting: In 1960, advertising agencies were an all-powerful influence on the masses. Personal and professional manipulation and sexual exploits defined the workplace and closed the deals. The high profile Sterling Cooper Advertising Agency created advertising campaigns – from cigarettes to political candidates -- better than anyone. It was a time of great ferment. Women had barely begun to come into their own. Librium and birth control were on the move. Ethics in the workplace, smoke-free environments, sexual harassment and ethnic diversity were workshops of the future.

The Premise: The series depicts the sexual exploits and social mores of this most innovative yet ruthless profession, while taking an unflinching look at the ad-men who shaped the hopes and dreams of Americans on a daily basis.

I've seen two episodes now and I am hooked. On, of all things, AMC (American Movie Classics), it isn't surprising this series is great, considering that executive producer and writer of "The Sopranos" Matthew Weiner is behind it. They get everything right here, you are in a totally believable Manhattan in 1960, from the hairstyles and wardrobe to the seatbelt-less cars and the incessant smoking and drinking. New episodes air first on Thursdays at 10, but repeats are on almost every day.

Damages
DAMAGES is a legal thriller set in the world of New York City high-stakes litigation. The series, which provides a view into the true nature of power and success, follows the turbulent lives of Patty Hewes (Glenn Close) the nation's most revered and reviled high-stakes litigator and her bright, ambitious protégé Ellen Parsons (Rose Byrne) as they become embroiled in a class action lawsuit targeting the allegedly corrupt Arthur Frobisher (Ted Danson), one of the country's wealthiest CEOs. As Patty battles with Frobisher and his attorney Ray Fiske (Željko Ivanek) Ellen Parsons will be front and center witnessing just what it takes to win at all costs, as it quickly becomes clear that lives, as well as fortunes, may be at stake.

My friends at FX have come up with another winner! Only the home of Nip/Tuck could come up with a legal thriller with so much bite. Both Glenn Close and Ted Danson are perfectly cast as the opponents on this battlefield. New episodes air on Tuesdays at 10, but again, repeats are on several times during the week.

Saving Grace
In her television series debut, Hunter stars as Grace Hanadarko, a tormented, fast-living Oklahoma City police detective who, despite being at the top of her field, takes self-destruction to new heights. After seeing tremendous tragedy in her life, both professionally and personally, Grace lives life hard and fast. She drinks too much, sleeps with the wrong men and defies authority. Grace has a tender side with her 22 nieces and nephews, but that is a side that most of the world doesn't get to see. It all catches up with her one night when, as she's driving too fast after too many drinks, she hits a man who is walking along the road. In an uncharacteristic moment, Grace asks for help, and she gets it – in the form an unconventional angel named Earl (Leon Rippy, Deadwood). Earl tells Grace that she is in trouble and running out of chances, but he wants to help lead her back to the right path. The journey, for both of them, will not be an easy one.

I'm not sure about this one. I am a huge Holly Hunter fan, and her character is so flawed that it's probably almost as much fun to do the part as it is to watch. Being an agnostic threatening to out myself as an atheist, the fact that the "unconventional angel" is a redneck, tobacco-chewing Billy Bob Thornton lookalike gives me a bit of hope I can keep watching. And Grace is, to say the least, initially skeptical, but by the end of the first episode she's already changed her mind about believing in God. The show is a tug of war between good Grace and bad Grace, but I'm not convinced it works fully. Fans of Hunter's gritty performance will roll their eyes at Earl, and viewers who warm to the show's spirituality might be turned off by all of Grace's drinking, cursing and screwing. I'm hoping they can make this work. New episodes air on TNT (which explains a lot) on Mondays at 10.

What are you watching?
Update: I watched the second episode of Saving Grace and I got bored half way through. I even got all the guys she's sleeping with mixed up, and Earl (the angel) just bugged me. I'm gonna stop watching it. But, I watched the second episode of Damages and liked it even more than the first episode. The third episode of Mad Men is on tonight.