No special reason for the French title, I just thought it sounded better than "News Flash". Once in a while I like to pass on news that's interesting to me that I hope you will also find interesting. Let's see…totally random order:
One of my favorite characters on Grey's Anatomy, Dr. Addison Montgomery, ex-wife of Derek Shepherd (aka McDreamy), is getting her own show. The
spin-off
hasn't been named yet but the 2-hour pilot will likely air in May, giving the network some time to make the decision to include it on its fall schedule. Any guesses for names for the new show? I think she is just gorgeous.
Speaking of gorgeous, you've probably seen the media hype surrounding Daniel Radcliffe's performance in Equus on the London stage. He's a bit skinny for my taste but I applaud him for breaking out of the mold we've put him in.
From the back cover of the paperback of the play, published in 1975: "In Equus…Peter Shaffer depicts the story of a deranged youth who blinds six horses with a spike. Through a psychiatrist's analysis of the events, Shaffer creates a chilling portrait of how materialism and convenience have killed our capacity for worship and passion and, consequently, our capacity for pain. Rarely has a playwright created an atmosphere and situation that so harshly pinpoint the spiritual and mental decay of modern man." I've never seen nor read the play, but my interest is now piqued, and not just because little Harry Potter grew up to be Parry Hotter.
Hallmark has just come out with a new line of cards called
Journeys
that are getting mixed reviews. I must not be the only person standing in front of the car rack thinking, they just don't make a card for what I'm trying to say. Most of the time that's because they don't have a Mother's Day card for a mother who was emotionally toxic and wielded a rubber strap, or a congratulations card for the woman who just had my father's baby who also happens to be his first cousin.
Yes, there is an infertility/miscarriage card (like they are the same thing?), and like most of these cards, they don't mention the actual event, but you get the idea from the context.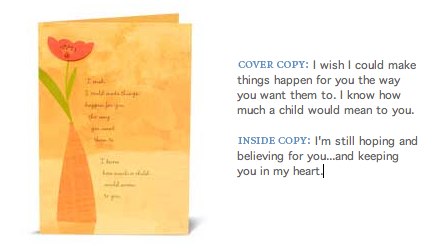 This isn't a terrible idea, although in most cases I think it would be better to buy a blank card and put in a simple personal message to the recipient. There are some good tips on the Hallmark site under the heading "More You Can Do", besides sending one of their cards:
** Give your friend two mugs and her favorite coffee or tea. Then make a date to stop by and listen.
** Offer to help out with specific everyday tasks: grocery shopping, filling up and washing the car, shuttling the kids around, pet- or plant-sitting or caring for the yard.
** Work with their circle of friends to provide regular meals in disposable containers—drop them off in an insulated cooler to keep them warm or cold. If you don't cook, chip in to schedule the delivery of pre-made or frozen meals from a catering service.
Finally an update from the barn. I promised I would post a picture of my new (used) Pessoa saddle if I kept it, and I'm not sending this baby back! The saddle I've been using since last summer is the saddle used for everybody who doesn't have their own, i.e. the people taking lessons or leasing. It's OK, but too big for me and very flat with no padding. My Pessoa is the right size and has tons of padding, not to mention it's beautiful and looks great on Missy. I ordered these
adjustable stirrups
, my trainer recommended them because I have arthritis in my knees. The stirrups the saddle came with are a child's size and are just a tad too small for me. I also ordered expensive Beval Italian calfskin leathers. I hope everything lasts me for a good long time, I tend to have expensive tastes but I think there are some things you shouldn't scrimp on. Like the tack I am relying on.
I'm exercising Miss on a longe line by myself now, another thing that's not as easy as it looks. She's very good and loves to move, but when I make a mistake she lets me know. It's very easy to get in front of her, especially when she gets going, and she ends up getting spooked and stopping because she doesn't understand what I am asking her to do. I apologize and say, "Sorry honey, operator error." She continues to snuggle her way into my heart and I've been carrying around pictures of her in my purse since we got her, showing her off to anyone who looks remotely interested when I mention her.


Last weekend for my lesson I rode a new horse, a 19 year-old flea-bitten grey named Tommy who looks almost exactly like this mare. I had no idea that was a color of horse! Almost every time I go to the barn I learn something new. Sometimes I think I am on such a steep learning curve I'm bound to slip and lose my footing. More than once I've been overwhelmed by the responsibility and commitment of owning a horse. But then I look at her sweet face and know we will muddle through, together.