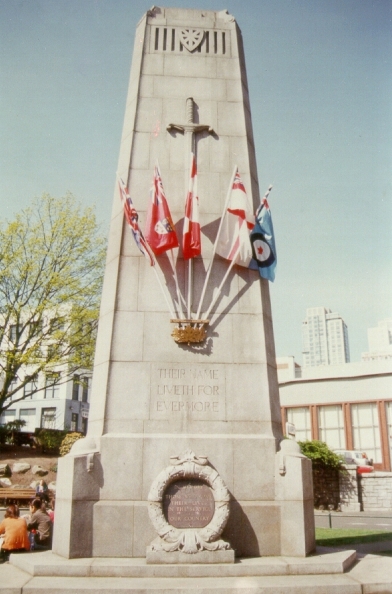 I remember as a young girl in the suburbs of Vancouver, on November 11th we would all buy little plastic poppies and wear them on our lapels as we sat in silence for two minutes on the couch watching the Remembrance Day ceremony from the Victory Square Cenotaph. The unveiling ceremony in April 1924 included this timeless plea: "Those whose sacrifices this Cenotaph commemorates, were among the men who, at call of King and Country, left all that was dear, endured hardship, faced danger, and finally passed out of the sight of men by the path of duty, giving their own lives that others might live in freedom. Let those who come after see to it that their names be not forgotten."
We all memorized "In Flanders Fields", a poem that to this day makes me teary. It was written by Canadian physician Lieutenant Colonel John McCrae on May 3, 1915 after spending 17 days treating men injured in the Ypres battle in Belgium.
In the nearby cemetery, McCrae could see the red poppies that flourished on the newly dug graves. He spent twenty minutes of precious rest time scribbling fifteen lines of verse in a notebook. Dissatisfied with it, McCrae tossed the poem away, but a fellow officer retrieved it and sent it to newspapers in England. The Spectator, in London, rejected it, but Punch published it on December 8, 1915. A portion of the poem is quoted on the Canadian $10 bill.
In Flanders fields the poppies blow
Between the crosses, row on row,
That mark our place; and in the sky
The larks, still bravely singing, fly
Scarce heard amid the guns below.
We are the Dead. Short days ago
We lived, felt dawn, saw sunset glow,
Loved, and were loved, and now we lie
In Flanders fields.
Take up our quarrel with the foe:
To you from failing hands we throw
The torch; be yours to hold it high.
If ye break faith with us who die
We shall not sleep, though poppies grow
In Flanders fields.
Inspired by McCrae's poem, American Moina Michael wrote a poem in response in which she promised to wear a poppy to honor the war dead. She also began to sell poppies to raise money for disabled veterans. After meeting Moina Michael in 1920, French YWCA secretary Madame E. Guerin started selling handmade poppies to raise money for poor children who were living in the aftermath of the Great War. Soon thereafter Field-Marshall Earl Haig, the former British Commander-in-Chief, encouraged the selling of paper poppies to raise funds for veterans. This tradition spread to Canada and then to the United States.
I think one of the subtle but inherent differences between Canada and the US is the underlying military thread that runs through everyday life here. I knew that my grandfather and great-grandfather both served in the Army, but I never saw a commercial telling our young men to join the Armed Forces and knew very few people who were even in ROTC. I'm not inferring that Canadians aren't proud of their soldiers and sailors, far from it, and they've been involved in every major conflict in every corner of the world since WWI. There just isn't the same emphasis placed on military might.
Remembrance Day in Canada is historically a day to remember those who have fallen in the service of the country, and Veteran's Day in the US is historically a day to remember those that survived the conflict in which they served. Either way, we have not forgotten, we will never forget, and we wish with all our hearts for the safe return of all the brave men and women still out there in the field.